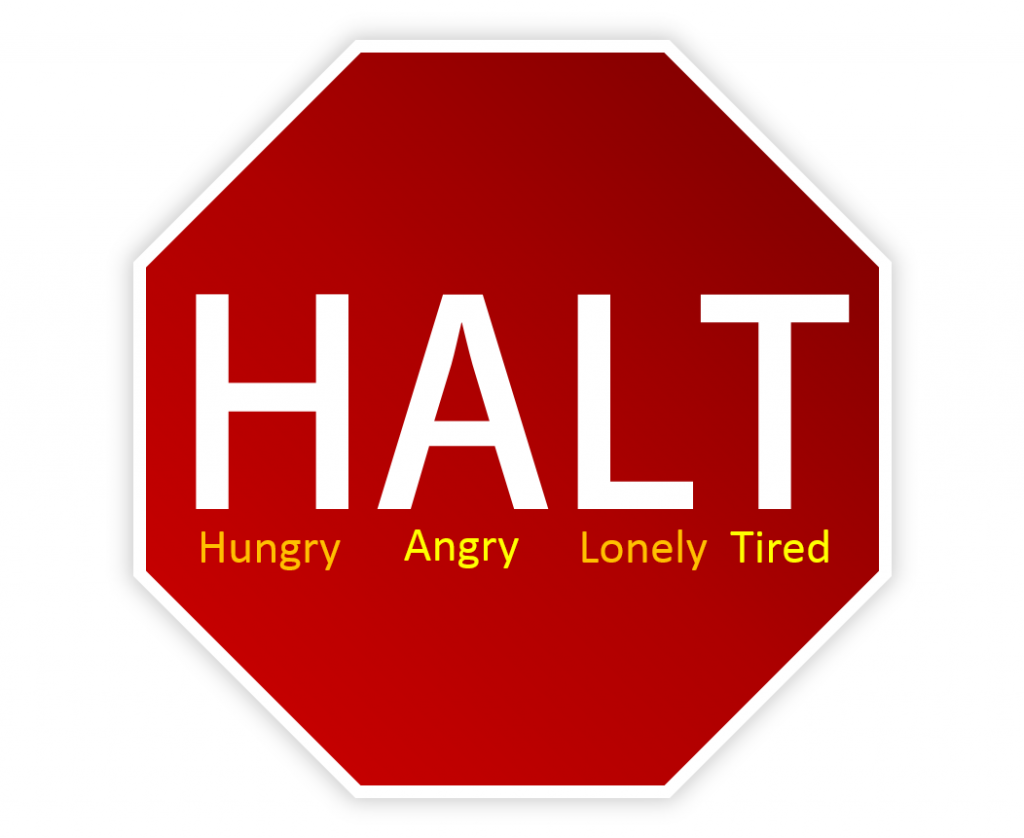 "No temptation has seized you that is not common to man. God is faithful, and he will not let you be tempted beyond what you can bear.   But when you are tempted he will provide a way out so that you can stand up under it." 1 Corinthians 10:13
In Alcohol Anonymous participants are taught that relapse often happens when one of four needs is not being met.  These four emotions can make depression worse. The four emotions are:  Hunger, Anger, Loneliness, or Tiredness;  these are used as the acrostic HALT. 
Physical hunger can create a frustration that may cause us to turn to something we have used  to comfort us.  For some that is alcohol.  For others it might be pornography, work, or shopping.  There are a wide-range of addictions.
Anger manifests in many ways. Instead of dealing with it appropriately we may turn to our most comforting addictive behavior.
Loneliness is a painful emotion that can trigger harmful behavior, such as becoming involved in harmful relationships.
Tiredness reduces our ability to manage frustrations and temptations.
How does all of this relate to depression?
These same four emotions can worsen depression.  As you experience a low it can be helpful to ask several questions:  what were you thinking just before this moment?  What were you doing? What was the setting?  Do your thoughts give you a "distorted" comfort from the circumstances around you?
The four emotions can take us into a deeper exploration of our spirit. 
Is your spirit hungry?  Have you been nourishing your spiritual and emotional life with positive and inspirational food?  What are you are hungry for? 
Are you angry?  Do you have deep-seated anger from past or current circumstances?  Are you angry because your expectations of life haven't been met? Are you angry with yourself?
Are you lonely even while surrounded by loved ones and your support system?  Have you discovered that no one person or persons can fill the empty spaces in your life?  Have you found that the cure of loneliness is in yourself and your relationship with God?
Is there a tiredness of emotions and spirit?  Physical tiredness can be restored by rest.  Emotional tiredness needs to find our emotional needs met. Our spiritual nature finds that God is the bread, the strength, for our soul.
Thinking and journaling about HALT can help understand things that are aggravating your depression.
When we are angry, lonely, or tired in both body and soul,  it may seem as though God has forgotten us.
He has not forgotten you.  He is with you. Depression is an illness that distorts thinking and feelings.  Assure  yourself of the truth that God loves you and will never desert you. 
"For I am convinced that neither death nor life, neither angels nor demons, neither the present nor the future, nor any powers, neither height nor depth, nor anything else in all creation, will be able to separate us from the love of God that is in Christ Jesus our Lord." Romans 8:38-39