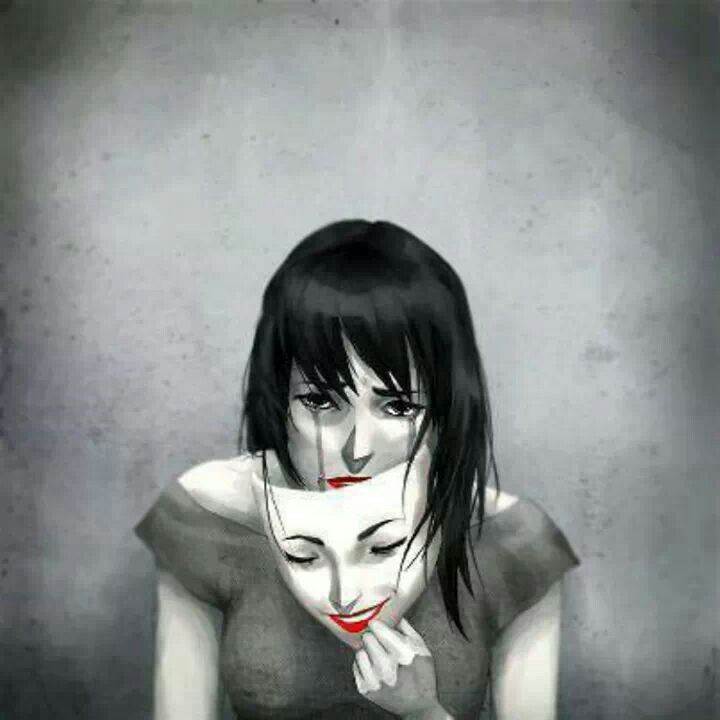 Kids love Halloween.
What is there not to love? You get to wear a mask and pretend to be your hero. And candy. Don't forget the candy. What other time of the year are you encouraged to go to the neighbor and ask for candy?
After a little sugar high, the mask comes off, and the children are all tucked into bed.
The point is that the mask comes off.
There are some people who wear a mask disguising their depression. Depression is masked so no one will know the secret.
This mask is sometimes called high functioning depression, perfectly hidden depression, or smiling depression. All the symptoms of depression are present but the person expends what energy they have in maintaining an upbeat image to the world.
Smiling depression may come on gradually, slowly enough that we may not realize we have become depressed. At first the mask is used to project a healthy image. We all have had bad days when we put on a happy face and just keep moving forward.
But smiling depression is different. What starts as a few bad days spiral down until  we have full blown depression. Smiling depression usually has a tinge of sadness that can be perceived if people are observant.
How do we hide depression?
We make excuses for avoiding social events with, "I've got to go back to work, this is an especially busy time for us." Gradually we isolate ourselves.
Or we may use the most frequent lie told in our society, "Hey, how you doing?" "I'm fine". We hide behind "I'm fine" even from the people we should share with.
Maybe we say, "I just need a drink to unwind. I'll be fine after a couple." We use addictions to smooth over pain. Gambling, recreational drugs, pornography, or work, we are quite inventive at finding something to take the edge off anxiety and help us feel something other than sad.
There are some who are high functioning depressives. No one realizes the days we can't get out of bed. Others can't see the emptiness of our heart.  They have no idea of the hopeless and helpless thoughts that haunt our mind. Because of a well-worn mask, people don't see the hurt.
Until one day we crash. The energy to maintain the facade is gone. We may dissolve into a puddle of tears. We may try suicide. Or, perhaps, a raging addiction goes out of control.
What are some things to look for in loved ones wearing a mask? Disrupted sleep patterns. It may be too much sleep or not enough. We notice a "forced" happy face. Our loved ones respond with feelings that are unusually intense. Anger or persistent apathy may indicate depression.
We may notice unusually pessimistic or hopeless comments.
To hide our heart from our loved ones is to pretend something we are not. Fear may keep us from opening up. Being afraid of how the special people in our lives will respond keeps us in bondage to depression. Not wanting to be a burden to others is a false sense of pride. To continue to wear a mask is to lie to others and to lie to ourselves.
It is ok to take off the mask.
We were created to have rich intimate relationships with our loved ones. God knows that it is "not good for man to be alone." We need each other. And we are called to bear each others burdens. In doing so we live out the love of Christ.
Here are some prayers that will help you find the courage God gives.
Isaiah 41:10  "So do not fear, for I am with you; do not be dismayed, for I am your God.  I will strengthen you and help you; I will uphold you with my righteous right hand."
2 Corinthians 1:3-4  "Praise be to the God and Father of our Lord Jesus Christ, the Father of compassion and the God of all comfort,  who comforts us in all our troubles, so that we can comfort those in any trouble with the comfort we ourselves receive from God."
Psalm 143:7-8 "Answer me quickly, Lord; my spirit fails.  Do not hide your face from me or I will be like those who go down to the pit.  Let the morning bring me word of your unfailing love, for I have put my trust in you.  Show me the way I should go, for to you I entrust my life." 
It is time to take off the mask.
And be tucked gently into the Savior's love.