What To Do When Your Teen Is Depressed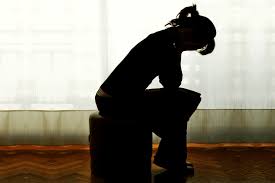 Your daughter is losing weight. You didn't notice for a long time. You encourage her to eat but she becomes angry, stomps to her room, and slams the door.
She has been getting up at all hours of the night. Sometimes when you walk by her room, you think you hear her cry. When you check, she pretends to be asleep.
Her grades slip. When you ask how school is going, she screams you don't understand what it is like today, and runs to her room.
Hard to awaken in the morning, she covers her head with a blanket, and says she never wants to wake up.
This is more than teen-age angst. Your daughter is suffering from depression.
What do  you do? Her comments about never wanting to wake up is considered a suicidal thought.
Acting out and moodiness are part of the teen years. But if you have noticed these changes for over two weeks, if her personality seems changed, you may have a child who is depressed.
Your biggest enemy in getting the help your child needs is your own denial.
If you suspect your teen is suicidal, immediately call the National Suicide Prevention Lifeline at 1-800-273-8255.
Talk to the local mental health center or counseling service.
As a teenager I suffered from depression and suicidal thoughts were common. I couldn't confide in my parents. I had few friends and carried my depression for several years before I could tell anyone what was troubling me.
I finally confided in my pastor who immediately acted to get help with a counselor. I am so grateful for a pastor that did not try to counsel me with banalities but had wisdom enough to deal responsibly with my depression.
Little was known about depression at the time and certainly the symptoms were not known by any but psychiatrists. My parents were beside themselves when they my "secret" finally came out. (These were the days before medication was available and talk therapy was all that was available.)
What can you do to help your teen?
Melinda Smith, M.A. and Jeanne Segal, Ph.D make these suggestions.
Listen, don't lecture. Often, parents have a tendency to criticize and make judgments. This may be to the feelings of helplessness parents have during their child's teen years.
Patiently encourage your teen to talk, even if they try to shut you out at first.
Don't try to explain away their feelings or thoughts. Depression creates irrational thoughts and trying to explain them away does not help.
Encourage your teen in their social activities. Help them combat isolation.
There is a correlation between sleep and depression. Teens need more sleep than adults, 9-10 hours, to function best.
Getting information, and involve your teen, about treatment choices.
Take care of yourself. You must look after your health. Helping your teen will require extra energy and patience. Make sure you have an outlet for your own feelings. Understanding friends, or having your own therapist, can help you manage stress.
Use your spirituality. Use prayer to cry out to God. Prayerful meditation can help quiet your heart.
Scripture is a wonderful resource. God offers help to all who seek it. Some of the promises in the Bible that mean much to me are:
Psalm 40:1-3  "I waited patiently for the Lord; he turned to me and heard my cry.  He lifted me out of the slimy pit, out of the mud and mire; he set my feet on a rock and gave me a firm place to stand.  He put a new song in my mouth, a hymn of praise to our God.  Many will see and fear the Lord and put their trust in him."
2 Samuel 22:29  "You, Lord, are my lamp; the Lord turns my darkness into light."
Romans 8:38-39  "For I am convinced that neither death nor life, neither angels nor demons, neither the present nor the future, nor any powers, neither height nor depth, nor anything else in all creation, will be able to separate us from the love of God that is in Christ Jesus our Lord."
There is treatment.
There is hope.
There is God's love.