Don't Give Up On Your Dreams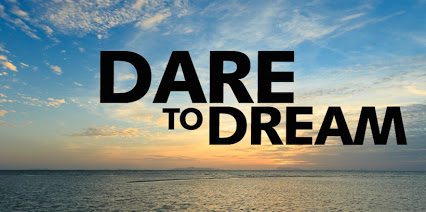 We all know people who love making New Year's resolutions. They launch into a new calendar year with excitement and energy, seeing it as the perfect opportunity to wipe the slate clean and make a fresh start. They commit to exercising more, eating less and cutting back on spending.
I find all the hoopla over the start of a new year to be a bit tiresome. I'm so worn out from all the holiday cooking, shopping and socializing that all I want to do is relax. While the rest of the world is gearing up for intense workouts at the gym and purging their kitchens of unhealthy foods (by the way, I'd be glad to take those Fritos and Oreo cookies off your hands), I just want to slip quietly into January.
Living with a mental health diagnosis has changed how I view life, which is different than how most people see it. As they say, I march to a different drummer. I have to remind myself that it's okay to be different, that it's perfectly acceptable to make caring for myself a daily priority.
Over time I've learned to recognize, and respect, my limits. I'm no longer ashamed to say "no" to things that would exceed those limits and throw me into hypomania or depression. I tell myself that it's okay to work a few hours a week instead of forty, even though I have the time to work more. I don't feel ashamed of taking several medications and seeing a therapist because I know those things will help me stay well.
While a new year is as good a time as any to recommit myself to good self-care, I also want to use this time to reflect on how I view myself, whether it's positive or negative. Is it my desire to experience life more fully? Do I want to grow as a person by stretching myself to learn and experience new things? Will I allow myself to dream of what can be?
Unfortunately, our mind tends to set limits on what we can or can't do, often believing that we'll never be able to reach our dreams. Perhaps we had to drop out of college, move back home or give up a job because our brain began to malfunction. Life turned upside down and our safe, predictable world disappeared.
The hopeful news is that God designed each one of us with the ability to adapt to change, whether it's inside our body or out in the world around us. In order for this to work, however, we must make a choice: Will I choose to accept the changes that my illness has brought or will I remain stuck in bitterness and hopelessness?
It took time to fully accept my diagnosis, but once I did I gradually learned to adapt to the changes it brought. I began to dream again. I looked for opportunities to continue growing as a person and to find meaning and satisfaction in life. I became more compassionate toward people experiencing mental health challenges as I did. I wouldn't have written a book or started blogging on mental health issues if it wasn't for the pain and what it taught me.
So as you begin 2017, let yourself dream again. Etch your dreams on paper. Take baby steps toward them. Refuse to tell yourself that you're not valuable or that your life will never amount to much because you have a mental health diagnosis. Let go of the fear and the limitations you've imposed on yourself.
As this new year unfolds, stay committed to caring for yourself but also reach beyond yourself to grasp whatever it is that will help you live life to the fullest. Jesus' words "I came that they might have life and have it abundantly" apply to all of us.