FRIENDS! FRIENDS! FRIENDS!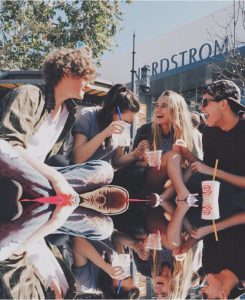 I believe a friend is having a relationship with someone who has similar interests. They listen to you and care about things you care about. They are there in good times and bad and you have a desire to do the same thing for them. A friend is someone who lets you be you and makes you feel comfortable being you. You can laugh and cry with them. They are people who will pray for and with you without needing any details.
Due to my low self-esteem, it was always difficult for me to make "true" friends. I was always wanting people to like me. A couple of times I was hurt by a friend, so I closed myself off to making new friends; I was fearful. For years after I became an adult, I prayed for friends; true friends; girlfriends.
The kind of friend I described above did not come until I was well into adulthood. I visited a church with my daughter a couple of times and then we attended a Women of Faith conference with a group from the church. Interestingly, I was not uncomfortable which is highly unusual for me. Being around new people was always very difficult. The night we came back from the conference an announcement was made that their women's group would be starting up in a couple of weeks. I got brave, or rather God prompted me and took away my fear, and I attended the group.
One of the things the ministry leader asked each one of us was what we wanted out of that particular session. When it was my turn, I said 'I want friends'. After that, God just poured out friends to me. I have friends a lot younger than me, my age, and older. Each friend has been an intricate part of my life. They have helped me get rid of the low self-esteem and they probably don't even know it. They have encouraged me and helped me grow as a person and in my relationship with the Lord.
About a year later, I had an opportunity to share my story about my journey with depression. This opened so many doors and gave me even more friends. They have helped me feel empowered by sharing my story and I pray I have helped them in their journeys. I feel like the verse Proverbs 27:17, Iron sharpens iron, so one man sharpens another (NASB), is exactly what I am referring to. We need each other to grow!
I also love these verses in Ecclesiastes 4:9-12 (NIV)
9) Two are better than one, because they have a good return for their labor.
10) If either of them falls down, one can help the other up. But pity anyone who falls and has no one to help them up.
11) Also, if two lie down together, they will keep warm. But how can one keep warm alone?
12) Though one may be overpowered, two can defend themselves. A cord of three strands is not quickly broken.
Christian friendships are found and bound together no matter the distance or length of time apart!!!