A Different Brand of Hope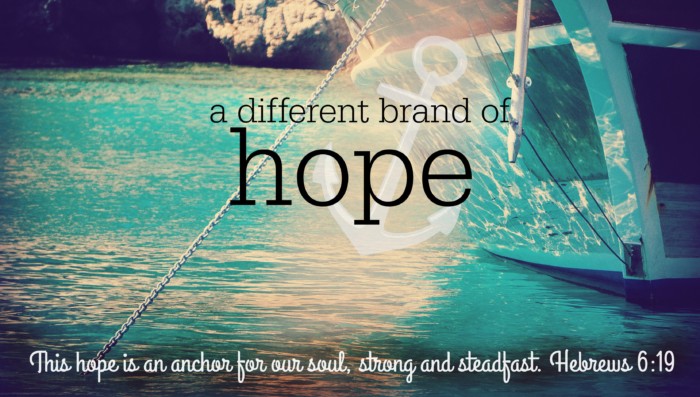 I love the possibilities that comes from a shopping trip to Ross. Racks full of discounted prices, many of which are discounted for good reason, but among the thickly packed hangers of clothes, are surprising treasures. Those few and far between finds keep me coming back another day to scan the cheap sequined clothes made of polyester and spandex for something that fits right, for the right price, so I too can sing their terrible jingle "I bought it at Ross!"
My last find was a navy blue tunic shirt. It had a small anchor on the front corner, and running down the back were the printed words, "Hope is the anchor of my soul." It fit great, and it had a Christian message to boot. I was sold.
But after a few wears the material began to pill, and it quickly became one of my "around the house" shirts.
The other day I pulled it out to throw on for a work out, and I was surprised to see that even the words, that I had been so drawn to when I bought it, were fading and the white ink was cracking. So much so that the message was hard to read. I couldn't help but feel a little scammed.
I realized how drawn I am to invest my hope in things that are affordable, or easy, and convenient. From coupon clipping to bargain hunting at outlets and chasing down sales, I'm a sucker for a great deal. Maybe you're the same way, the promise of a sale gets your heart pumping. The idea of getting more for less— has its appeal right?
I do it in other things too. I put my hope in a diet that promises a quick weight loss fix. I get excited about ways I can make low prep affordable meals for my family. I go for the friendships that come easily because I don't want to put in the hard work of figuring someone out. Sometimes I  turn to Facebook for affirmation and confidence instead of God's Word.
I deposit my hope in things that come easily, that are cheap, and that promise quick results.
And then there's God. A God that could have made the Heavens and Earth in the snap of His fingers, but He took seven days. A God that chose to come to Earth in human flesh and live among us, even though He could have found a faster, easier solution.
Yes this God turns our American culture of quick and convenient, of no mess, and fuss free on its head. He calls us to be patient, and humble, and to get dirty in the tangled mess of relationships. His way isn't fast. It doesn't glaze over the hard stuff or offer a quick fix, but when we submit our lives to God, he weaves a hope within us that doesn't become threadbare, or faded.
No I can't build my identity on the things of this world that will pill and tear, and rust, and run out of battery life.  My confidence can't come from my own performance, which will always come up short, or the approval of others that can flip as easily as a switch. When I try to build my identity on the things of this world, I find myself worn out and faded like that old blue shirt.
But the good news is that unlike Ross with its store hours and return policy, I can turn to God for a renewed hope at any time, without any exceptions. I'm never too threadbare to have to hide from him. And the King of the Universe, with His abundant resources offers me the best deal money can't buy- His priceless Grace. He clothes me in His righteousness and He restores me with the kind of hope that can't fade, or crack, or diminish. His forgiveness came at the great cost of His son, but He offers it freely to you and I.
When my identity is built upon His promises and abundance, I can be renewed again and again by his unshakeable hope. Yes and the hope that anchors my soul is etched in the hands of my Savior.